Carl R. Wagreich, DPM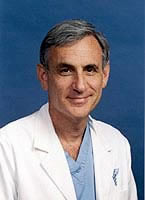 Medical Education
Dr. Wagreich received his Bachelors Degree in Psychology from Hofstra University in 1972. He then received his Bachelor Degree in Biology and Doctor of Podiatric Medicine from the Illinois College of Podiatric Medicine in 1978. He then went on to complete his Surgical Residency in 1979 at Northlake Community Hospital in Northlake Illinois. He became Board Certified by the The American Board of Foot and Anlke Surgery in 1984.
Contributions
Dr. Wagreich served as an Associate Clinical Professor at USC and has directed Podiatric Residency programs since 1979. He has served as Residency Director at Hawthorne Hospital, Southbay Hospital, and Healthsouth Surgicenter of SouthBay/Baja Project 2 year Surgical Residency Program. He has been a Senior Attending Staff member and Co-Director of the Baja Project for Crippled Children in Mexicali, Mexico since 1979. The project is a strictly volunteer organization that has performed hundreds of major surgical procedures, specializing in Clubfoot surgery on the pediatric patient.
Dr. Wagreich served 3 terms as Consultant and Chief Consultant to the Board of Podiatric Medicine for the State of California. He recently was the first Consultant to ever be asked to serve a 3rd term and is active as a Consultant who has reviewed over 500 cases over 24 years for the California Board of Podiatric Medicine. He also serves as an Expert Witness, probation monitor, and practice monitor for to the Board of Podiatric Medicine and has testified in Podiatric Malpractice Cases as an Expert Witness.
Dr. Wagreich has lectured at many Seminars throughout the years and has authored many Journal Articles. His most recent was authoring the chapter on "Congenital Forefoot Deformities" for the third and fourth editions of the prestigious Textbook of Foot Surgery. He is a FOUNDING FELLOW of the American Professional Wound Care Association and The American Society of Podiatric Surgeons.
Professional and Hospitals Affiliations
Curriculum Vitae
Undergraduate Education
Hofstra University
Hempstead, New York 11551
Graduated: May, 1972
Degree: B.A. Psychology
Medical Education
Illinois College Podiatric Medicine
Chicago, Illinois 60610
Graduated: May, 1978
Degrees: B.S. Biology and D.P.M.
Honors
Durlacher Honor Society
Surgical Residency
Northlake Community Hospital
Northlake, Illinois 60164
Graduated: June, 1979
Teaching Appointments
Co-Director/ Senior Attending Staff Baja Project For Crippled Children
Mexicali/ Tijuana, Mexico 1979 to Present

Director Of Residency Education
Healthsouth Surgery Center Of Southbay/Baja Project
Torrance, California 1996 to 2005

Director Of Residency Education
AMI South Bay Hospital
Redondo Beach, California 1993 to 1994

Director Of Residency Education
Hawthorne Hospital
Hawthorne, California 1979 to 86 And 1987 to 1996

Clinical Associate Professor
California College Podiatric Medicine
San Francisco, California 1980 to Present

Clinical Associate Professor Podiatry
LA County University Southern California
Los Angeles, California 1980 to 2005
Offices Held
Chief Of The Podiatry Section 1986
Secretary Of The Medical Staff 1987
Hawthorne Hospital
Publications
*Author Congenital Deformities of the Forefoot
Chapter McGlamry Textbook 3rd Edition
WB Saunders 2001
WB Saunders Textbook 4th edition 2012
*J. Amer Podiatry Medical Assoc 1988
Tenosynovial Fibroma
*Journal Foot Surgery 1986
Post Traumatic Heel Deformity
*Journal Foot Surgery 1985
STA Operation A Preliminary Report
*Journal Amer Podiatry Assoc 1980
Diabetic Polyneuropathy
Private Practice
23451 Madison Street Suite 230
Torrance, California 90505
Lectured Seminars
Western Podiatry Congress
Baja Project For Crippled Children
Los Angeles County Podiatry Medical Association
California College Podiatric Medicine Southern Campus
Northlake Hospital Alumni Association
Hawthorne Hospital Grand Rounds
Positions Held
CHIEF PODIATRY CONSULTANT Board of Podiatric Medicine; State of California
CONSULTANT/EXPERT WITNESS Board of Podiatric Medicine; State of California
EXPERT WITNESS Podiatric Malpractice
EXAMINER Board of Podiatric Medicine
ADVISORY PANEL AMER College Foot Surgeons
Past QUALIFIED MEDICAL EVALUATOR
PHYSICIAN ADVISOR Blue Cross Disability
Hospital Staff
Torrance Outpatient Surgery Center
Torrance Memorial Hospital
Board Certification
Diplomate, The American Board of Foot and Anlke Surgery - June 1984 (Current)
Affiliations
FOUNDING FELLOW American Professional Wound Care Association
FELLOW American Society Podiatric Surgeons
Phi Sigma National Fraternity