Welcome to our Podiatry practice in Torrance, CA.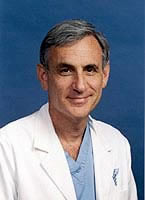 Dr. Wagreich practices all aspects of Podiatric Medicine and Surgery, however due to 3 decades of Co-Directing the Baja Project for Crippled Children in Mexicali, Mexico he has a special interest in and expertise working with pediatric patients.
In his 38 year practice in the South Bay, Dr. Wagreich has maintained a special practice Philosophy. He always tries to be as conservative as possible and only performs invasive procedures when all conservative care is exhausted. He also treats his patients Holistically. All aspects of his patient's wellness are considered in order to arrive at a diagnosis and tailor an individual treatment plan. A special emphasis is placed on patient education along with treatment.
All aspects of Podiatric care are available in our office. We use Electronic Medical Records for patient continuity. Dr. Wagreich performs minor surgical procedures including the use of an in office Carbon Dioxide Laser, x-rays are taken and developed in 3-5 minutes, laboratory analyses are drawn, and Orthotic Devices are prescribed. Treatment ranges from trimming of corns, calluses, and dystrophic nails to major reconstructive Podiatric surgery. Dr. Wagreich is well versed in all aspects of Podiatric surgery from clubfoot surgery to ingrown toenails, hammertoes, and bunions. He refers to and receives referrals from all major medical specialties and also has had extensive training and experience in working with the Diabetic patient.
The office is open Monday through Friday at 8:30 AM and patients are seen Monday, Wednesday, and Thursday until 5:00 PM.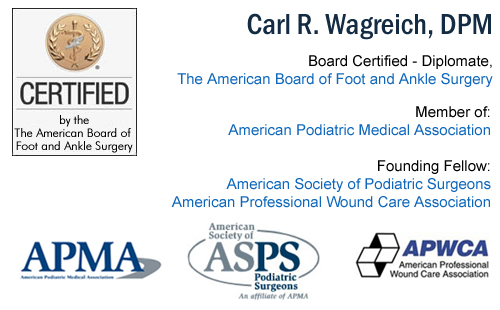 We specialize in the medical and surgical treatment of the foot and ankle in adults and children, such as:
Providing Surgical and Non-Surgical Podiatric Treatment Options